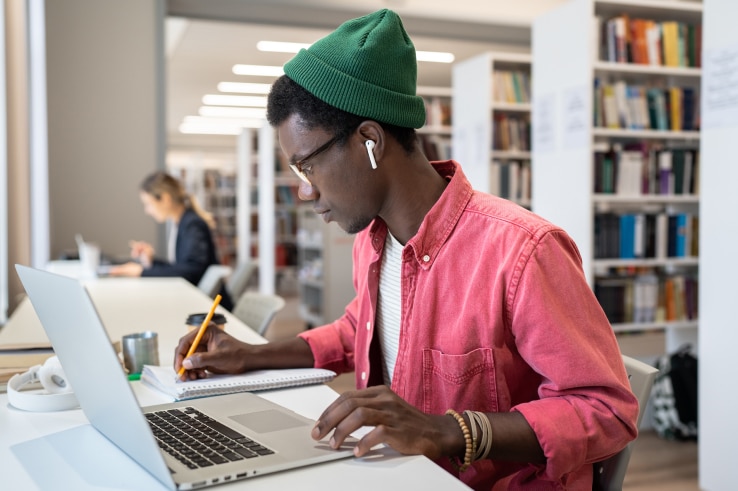 We have invested in and thoughtfully innovated online courses for the past 20 years, integrating multimedia, formative assessments, and much more to create robust, active online learning environments. Yet, the overall learner experience can sometimes feel isolating and less engaging than in-person learning. To continue to support flexibility and choice in learning modalities, many organizations are met with an interesting dilemma of improving program quality and creating peak moments in the learning design. When considering instructional delivery, the efficacy of asynchronous vs. synchronous learning is debated, but as technology continues to evolve, these two structural options for course delivery continue to intertwine more and more seamlessly.
Watching a recording of a live class session has missed the mark for learners, yet we know that providing access to the content covered remains a requirement. New advancements now allow for recorded classes to move beyond a static video watched by learners and into an era of active learning. While there are many noted benefits of recorded lectures and training sessions, research has shown heightened learning retention when online classrooms are leveraging active learning in real-time. But what if recorded classes could leverage active learning strategies for students accessing recordings asynchronously at a later time? With the right tools, this is now possible.
Additional research has informed the need for a shift toward interactive recordings in online sessions. Mohammed A.M. Alhefnawi's research into effective learning for recorded classes and the inclusion of active learning, "Course instructors may include multiple teaching modes, allowing their [learners] to benefit from each of them based on their abilities and understanding to increase overall learning outcomes."
Let's explore recorded lectures a bit further, from student preferences to the power of active learning, and how integrating the two can maximize learning outcomes and empower instructors and learners alike.
Understanding learner preferences
Learners appreciate recorded lectures for their flexibility and accessibility, allowing them to engage with educational content at their own convenience and pace. These recordings provide a valuable resource for review, making it easier for students to grasp challenging concepts and enhance their overall learning experience.
Flexibility helps learners stay up-to-date
One of the most compelling reasons learners prefer recorded lectures is the convenience and flexibility they can provide. Whether reskilling or upskilling outside of normal office hours, catching up on a missed course lecture for busy college students, or any other number of scenarios, being able to access important information on one's own schedule is incredibly valuable. Additionally, depending on the learners involved, not all individuals are in the same time zone so having the ability to sync up in real-time can be quite difficult.
Revisiting information improves retention
Even if a learner has participated in the live session, recorded lectures can offer valuable benefits in terms of subject retention. When learners have access to recorded lectures, they can review the material at their own pace, pausing and rewinding as needed to ensure they fully understand the content. This flexibility allows for a deeper grasp of the subject matter, as learners can revisit complex concepts and reinforce their comprehension. Ultimately, recorded lectures empower students to be more active and engaged learners, leading to improved information retention.
Dynamic notetaking that exists beyond the lesson
Recorded lectures can significantly improve note-taking and assessment preparation. Students can focus on understanding the material and being active participants in the class during the live session and take concise notes, knowing that they can later refer to the recording for more detailed information. Students can also flag what content they may need to revisit without disrupting the rest of the attendees during the live session. This approach results in more effective note-taking practices, well-organized notes, and better comprehension, enhancing the overall learning experience.
Leveraging active learning and lecturing in the classroom
Standing in contrast to lecture-based learning, active learning techniques encourage participation and involvement by engaging students in discussions, problem-solving, and interactive activities—which not only foster a deeper understanding of the subject matter but also strengthen their ability to apply this knowledge to real-world situations.
As Joseph Evanick points out in his article for the eLearning Industry, "There are several benefits of using active learning techniques in online education, including improved [learner] engagement and performance, increased [instructor] satisfaction, and enhanced [organizational] reputation."
However, when these dynamic classroom sessions are converted into static recordings for asynchronous learners, there's a potential loss of the interactive and participatory elements that make active learning so effective. Asynchronous learners may miss out on the immediate feedback, group discussions, and active engagement that occurs in real time.
Bridging the gap by integrating active learning into recorded lectures
As online learning platforms have ascended in use among learning and development professionals, educators, and training experts, there has been an assumed diminishment of return around asynchronous learning that has previously accepted a trade-off: with more convenience comes sacrifices in the quality of the education. While recorded sessions provide the flexibility and access that learners prefer, educators must consider how to adapt active learning methods to better suit asynchronous learning environments that engage the learner.
However, as technology continues to bridge this gap, instructors and learners are increasingly gaining the best of both worlds—convenient, asynchronous recorded sessions with the inclusion of active learning tools. Pre-recorded videos existing within a virtual classroom platform which allows learners to play videos within recordings themselves, take part in polls, and interact with Google Docs in real-time are blending the worlds of asynchronous and synchronous learning.
Maximizing learning outcomes with a hybrid approach
Asynchronous and synchronous learning remain vital and complementary to each other. Online content, and learning activities that happen alone have value and the shared experiences of discourse or exploration increase rigor and develop skills highly valued by employers. Deciding how those must live together in a course design, and increasing our intentionality about the inclusion of RSI (regular and substantive interaction) while offering flexibility for learners is paramount to our next generation learning designs.
As Larian Nkomo and Ben Daniel note in their research into flexible, adaptable learning opportunities with recorded coursework:
"Overall, the results indicate that lecture recordings can provide students with flexibility and convenient access to learning materials, and ultimately enhance students' learning experience. Most respondents regarded lecture recordings as supplementary learning resources, not a replacement for lectures…The availability of lecture recordings did not influence their decisions to attend lectures. Further, some respondents reported that they used lecture recordings to prepare for exams, to revise, and to compare with the notes they took in class."
Empowering instructors and learners
The reality is that, with increasingly robust and dynamic technology, recorded classes should become less static and more active—tapping into the very tools and techniques instructors have found to help learners glean the most from the materials. With the inclusion of polling and quizzing tools, real-time control of videos within recordings, and access to live documents, learners are empowered like never before while retaining the flexibility that is paramount to their lives. Instructors, also, possess more opportunities than ever to provide the most successful courses and an improved student experience.
Further uniting asynchronous and synchronous learning
Navigating the evolving landscape of learning and development, academics, and training can take learning outcomes to new heights for both instructors and learners. With technological advancements within the area of recorded sessions, instructors can increasingly utilize the active learning techniques known to provide learner success.
Looking to see these new technological capabilities for yourself and learn how they can take your recorded coursework experience to the next level? Reach out to a Class team member today to learn more!
Ready to Learn More?
Sign up for a product demo today to learn how Class's virtual classroom powers digital transformation at your organization.
Get a Demo