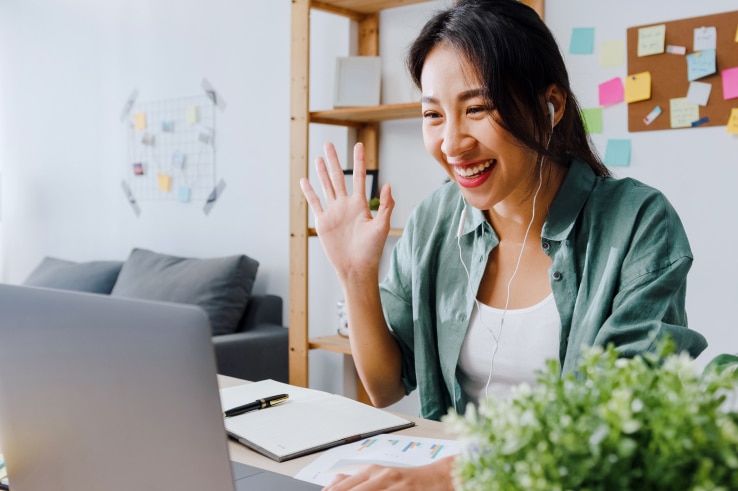 Virtual classroom platforms are now a foundational piece of most education systems. Especially in higher education, online classrooms are not only seeing huge leaps in demand from learners, but their functionality—from a technology standpoint—provides features and insights that aren't possible in physical classrooms. As this natural evolution continues, educators must explore ways to engage students in online classrooms. While technological developments have proven to be an important aspect of increasing student engagement in online learning, best practices in instruction and setup can also have a lasting impact.
Although many institutions have previously tried to rely on web conferencing tools to establish a virtual classroom setting, whether due to lack of finances or pandemic-produced necessity, the reality is that robust, intentionally designed virtual classroom platforms provide the tools, features, and insights necessary for true pedagogical success.
Why is engagement so important to online learning?
As Ann Jackson notes in her eLearning Industry article, "The value of increasing [online] engagement is that it makes learning more enjoyable and motivating, therefore, helping to ensure learners stay involved, focused, and willing to extend the effort to learn the presented skills and knowledge."
In the past, educators have been slow to adopt online learning platforms due to a concern that students would fail to learn as effectively. This is why a refreshed understanding of virtual classroom software is so important for institutions. Innovative technological features have addressed the challenges that previously inhibited a commitment to online classrooms.
Additionally, now that virtual classrooms can effectively provide the right tools for students to actively engage in online learning, the responsibility shifts to ensuring educators are properly trained, supported, and empowered to integrate these tools into their online classroom curriculum.
Supporting and empowering educators
Having all the best tools won't amount to much if you don't have educators who can effectively leverage them. J.A. Miller sums this point up effectively in an article for Faculty Focus, stating, "Don't confuse technology with teaching. The goal is to use technology to facilitate engaging and effective teaching and learning. Know that technology's tools of engagement […] are just that—tools, not the engagement itself. What is the secret sauce? You are!"
Let's explore five critical ways to ensure instructors are properly set up to create engaging, impactful virtual classrooms:
1. Communication is key
Clearly and continually remain in communication with your instructors. Ensure that goals are accurately identified from the start, and consistently check in with your educators to make certain they're confidently remaining on the right track.
Try it yourself: Create a milestone meeting to discuss how course setup is coming along with each instructor.
2. Educator input is vital
Clear, consistent communication is only the beginning. Also be sure to garner teacher input on how the process is unfolding. Not only can this help encourage deeper participation from your instructors, it can also help identify potential pitfalls, unique opportunities, and other circumstances only recognizable from those in the virtual classrooms.
Try it yourself: Set aside time in regular meetings to encourage feedback or provide an asynchronous method by which instructors can deliver feedback.
3. Knowledge-sharing must be well-timed
Training is essential for instructors to cultivate truly engaging online classroom experiences for their learners; however, educators are very busy, as well. Don't let scheduling conflicts keep your instructors from continuing their learning.
Try it yourself: Find ways to upskill efficiently, from providing asynchronous learning opportunities like pre-recorded walk-throughs to sending out quick-tip newsletters.
4. Provide ongoing tech support
While getting up-to-speed with a new virtual classroom platform usually requires thoughtful onboarding, access to knowledgeable IT professionals and additional resources shouldn't disappear after onboarding is complete. Provide a well-defined communication process with tech support and encourage your instructors to use these resources consistently.
Try it yourself: Establish weekly "office hours" for your instructors to reach out to tech support or send a consistent reminder with the contact information your instructors can use.
5. Celebrate educator success
Creating student engagement in online learning can require a philosophical or attitudinal shift from some of your educators. Be sure to acknowledge the hard work your instructors are putting in by celebrating successes.
As Whitney Johnson points out in her article for Harvard Business Review, "Most organizations do not seem to have a celebration strategy, and individuals also have an 'on-to-the-next' mindset, as though it is contrary to productivity and efficiency to relish, even briefly, reaching our objectives. Nothing could be further from the truth."
Try it yourself: Shout out a team member in a staff meeting or even highlight a new technical skill learned in a weekly newsletter.
---
Related: Exploring Calcasieu Parish School Board's Award-Winning Virtual Instruction Program
---
Virtual engagement best practices
Student engagement in online learning is not wholly different from in-person courses. It's important to foster a sense of community, create active learning strategies, and provide timely feedback. The mechanisms for these elements, however, can look slightly different in a virtual classroom than in a physical one. Let's explore how to increase student engagement in online learning through these best practices.
1. Start strong and build from there
Create a welcoming and informative course introduction, as well as an accurate syllabus. Provide regular communication and updates, and do so in a consistent place. Also, just as we noted for educators, celebrating goes a long way so be sure to recognize and reward achievement.
Try it yourself: Get learners involved early through active learning methods like a discussion board or small group assignment.
2. Foster a sense of community
Developing rapport and establishing opportunities for increased interaction helps increase student engagement in any situation. Don't rely on passive teaching methods such as lectures or reading assignments.
Try it yourself: Tap into group projects differently by utilizing breakout rooms with trackable stats like talk time and more to know definitively how involved learners are.
3. Elevate active learning strategies
Robust, intentionally designed virtual classroom platforms have a number of interactive features built specifically to heighten student engagement. Discussion prompts and other participatory tools can also encourage this behavior.
Try it yourself: Sprinkle in polls or quiz questions throughout a session as an excellent way to keep learners focused.
4. Leverage accessibility tools
Not all students learn the same way; however, in physical classrooms, many times a one-size-fits-all approach is required. With online learning platforms, your institution can utilize a variety of accessibility features and tools to ensure students are empowered in their learning journey, allowing each student to engage fully in the coursework.
Try it yourself: Provide course recordings as video, audio, and transcript, enabling learners to review the content through the medium most effective for them.
5. Provide timely and constructive feedback
With automatically logged grading, quizzes can be immediately imported into gradebooks, allowing learners to keep an up-to-date picture of how they're doing in a class.
Try it yourself: Proctoring view in top-level virtual classroom software allows instructors to view a learner's camera and their screen in tandem, providing private, one-to-one feedback.
6. Choose an intuitive platform for all involved
Ultimately, all the tools and features in the world won't make a difference if your instructors and learners don't know where to find them or how to use them. Intuitive platforms are intentionally designed with your instructors and learners in mind.
Try it yourself: Select a user-friendly platform that allows for clear navigation, organized course structure, and customization which can put all involved in an ideal circumstance to achieve short- and long-term goals.
Online learning is the future present
Online learning is no longer the future of education—it's the present. Learners are demanding more flexibility, innovation, and outcomes, which only virtual classroom solutions can provide. Identifying the right platform for your institution is the first step; however, that's not where the journey ends.
Are you looking for a partner that not only offers best-in-class technology, but also the support, industry insight, and dedication to elevate your institution's experience to the next level? Reach out today to see how Class can work with your institution to achieve those elevated goals.
Ready to Learn More?
Download the guide for more best practices and tips to engage students in the virtual classroom.
Download the Guide